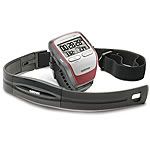 I'm so excited - my
Forerunner 305
arrived today!
My 301 has been giving me plenty of headaches, so I'm delighted that the 305 has arrived.
It looks so sleek, and is supposed to work better than the 301 as well.

So what's a Forerunner 305? It's a GPS (Global Positioning System) device, and HRM (heart rate monitor) all in one. Basically, it allows me to just go out and run - it will measure how far I've run, my pace, my heart rate, and, of course, how long I've been running. It can also be set to take "auto-laps" - basically automatically record a lap at a given interval, that I set, say every mile or kilometre.

So can set up specific workouts in the software that comes with it, so you can set it for a tempo run, intervals, or any other type of training, and the device will tell you if you need to speed up or slow down, or if your heart rate is too low or too high. One feature that I really like (that the 301 also had) is the "Virtual Partner" feature. Basically, you tell the device how far you want to run, and what time or pace is your goal, and it will "run" against you, let you know how you are doing with regards to your goal.

The other thing that is handy about the Forerunner, is that I can charge it's battery over USB. So I don't have to worry about the power differences between North America and Europe - I just put the 305 in its docking cradle, and attach the cradle via USB to one of the USB ports on my computer. Once charged, it lasts about 14 hours, and is really easy to recharge. Since I plug mine into the USB port after every run, to download the run data, it's always fully charged.

Today is a scheduled day off (SDO) from running, but I will definitely take the 305 for a spin tomorrow, and report back on how it worked.


Pics of my Forerunner 305 below:


Garmin Forerunner 305
Sep 11, 2006 - 4 Photos