Grab the Photo Hunt code.
Join the blogroll. Visit participants.
Silver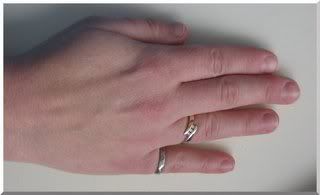 (Click photo for a larger image)


The silver-coloured ring on my little finger is my Iron Ring. However, it is neither silver nor iron. Modern Iron Rings are made out of stainless steel.
The Iron Ring is the symbol of Canadian engineers. All graduates of a university engineering program in Canada have the opportunity to participate in the Iron Ring Ceremony, known as "The Ritual of the Calling of an Engineer."
The Iron Ring obligation (statement of ethics) and the ceremony, were written by Rudyard Kipling.
The object of the Ritual can be stated as follows: The Ritual of the Calling of an Engineer has been instituted with the simple end of directing the newly qualified engineer toward a consciousness of the profession and its social significance and indicating to the more experienced engineer their responsibilities in welcoming and supporting the newer engineers when they are ready to enter the profession.
The Iron Ring has been registered and may be worn on the little finger of the working hand by any engineer who has been obligated at an authorized ceremony of the Ritual of the Calling of the Engineer. The ring symbolizes the pride which engineers have in their profession, while simultaneously reminding them of their humility. The ring serves as a reminder to the engineer and others of the engineer's obligation to live by a high standard of professional conduct. It is not a symbol of qualification as an engineer - this is determined by the provincial and territorial licensing bodies.
(Much of the text taken from
The Iron Ring
, which you can check out for more information.)
Tags: