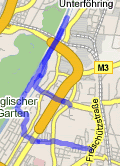 So today was a 5 mile run, with 1 of those miles (the one in the middle) being a tempo mile. The workout was this: 2 miles@65%HRR, 1 mile@80%HRR, 1 mile@65%HRR, 1 mile@70%HRR (HRR=Heart Rate Reserve)
The last two miles, after the tempo mile, I had to do a lot of walking to keep my heart rate in the right zone. I was very happy with my tempo mile though - 10:21. I know that's slow for most runners, but for me, that's a good pace, so I was delighted.
I've run faster for short stretches, say 2 or 3 km, but only during 10 km races, the last 2 or 3 km. Or when I've done speedwork (400m or 800m repeats). So for a training run, I'm very happy.
It was warm out, about 25°C, and there wasn't much wind. But I was running along the Isar river, so my route was well-shaded in most places, so the heat wasn't too bad.
You can see the route I ran today
here
.