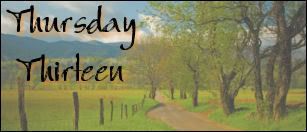 This is my third week for Thursday Thirteen, but I haven't really introduced myself yet. So I decided that this week I would introduce myself properly.

Thirteen Things about Caylynn
I'm a proud Canadian, and proud Canadian Army Wife.


I'm currently living in Munich, Germany, and will be for the next three years, since my husband is serving as an exchange/liaison officer with the German and NATO military engineering schools.


I'm married to a wonderful, incredible man; we were married on April 22, 2004 in Mexico, along the Mayan Riviera. It was just beautiful.


I was born in Selkirk, Manitoba, Canada (near Winnipeg), lived in Winnipeg until I was 8 years old, then moved to Ottawa, where I've spent most of the rest of my life.


I was born on March 19, 1972, so I'm 34 years old right now. Astrologically, I'm a Pisces with Aries trends


I attended university at the University of Guelph, in Guelph, Ontario, a beautiful campus, and a beautiful small university city.


I have a degree in biological engineering, and I'm currently working on a second undergrad degree in Human Science, since when we return to Canada in three years I hope to do a Masters degree in Physiotherapy. Right now I'm studying Anatomy and Physiology.


I graduated at the top of my class from high school, winning the Governor General's Academic Medal, and at the top of my class from university, winning the Professional Engineers of Ontario Gold Medal.


I'm a group fitness instructor, certified with CanFitPro and Resist-A-Ball. My favourite group fitness classes are Step and Stability Ball.


I'm a runner, albeit a very slow one. I've run three half-marathons (the Ottawa Fall Colours Half, and the National Capital Half twice), one full marathon (the Prince Edward County Marathon), and numerous 10Ks and charity runs. My next race is the Paris 20K on October 15th.


My all-time favourite TV show is M*A*S*H; I also enjoy all of the Star Trek series. Currently I watch Smallville, Battlestar Galactica, Stargate SG-1, Stargate Atlantis, Law & Order, and Law & Order SVU.


I love reading. I read mostly fantasy and historical fiction, but also some sci-fi, and regular fiction. My favourite authors include L.E. Modesitt Jr., Kate Elliott, Katherine Kurz, Robert Jordan, Diana Gabaldon, Bernard Cornwell, and many, many others.


My other hobbies include computer games (role-playing games and citybuilding games mostly), reading and collecting comic books (my husband got me into this), horseback riding (hunter seat and dressage), and just spending time with my husband.
Links to other Thursday Thirteens!
Get the Thursday Thirteen code here!

The purpose of the meme is to get to know everyone who participates a little bit better every Thursday. Visiting fellow Thirteeners is encouraged! If you participate, leave the link to your Thirteen in others comments. It's easy, and fun! Be sure to update your Thirteen with links that are left for you, as well! I will link to everyone who participates and leaves a link to their 13 things. Trackbacks, pings, comment links accepted!

View More Thursday Thirteen Participants